Those Who Dwell in Darkness have seen a Great Light (Isaiah 9:2)
With Rev. Adwoa Lewis-Wilson
November 22 - 24, 2024
For many who suffer or live within marginalized identities, the need for justice and pastoral sensitivity is real and urgent. However, the Judeo-Christian faith also suggests that the sufferer has the potential to lead to wisdom from an intimacy with God that is nourishing for the individual, as well as a revelation to the world. With Job, Julian of Norwich, and Jesus, we will explore how retelling our stories of suffering/sorrow can be the ground of deeper encounter with God and the world.
This retreat will include times of presentation, contemplative prayer, conversation, and silence. It will explore the theme of struggle in diverse ways that are all faithful to the Christian tradition but that may be evocative. It is suggested that those who attend have their own spiritual practice at home and/or a spiritual director.
Retreat begins after supper at 6:30 p.m. and ends with the noon meal on Sunday.
Leader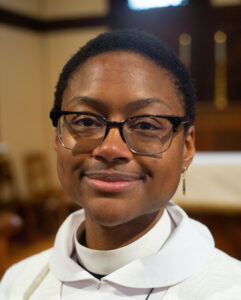 Rev. Adwoa Lewis-Wilson
Amma adwoa Wilson is an Episcopal priest and an Oblate of the Order of Julian of Norwich (a contemplative Order in the Episcopal church), with experience in the fields of psychology and education. Her work includes parish ministry, inter-congregational spiritual formation, retreats, and spiritual companionship with individual and groups. Adwoa believes that contemplative practice among those who suffer personal and systemic trauma will be the essential guide for transformative social justice and spiritual growth among the whole people of God. She is excited to explore this spirituality theological and with those she serves.
Learn more about Rev. Adwoa Lewis-Wilson