Sound Journey: Sacred Soundscape for Healing and Relaxation with Onyxe Antara
With Onyxe Antara
December 3, 2023
Sound is one of the most natural and accessible forms of healing for emotional and physical well-being and has been used for millennia to access higher states of consciousness. Gong baths offer relief from stress, chronic pain, depression, fatigue, anxiety, insomnia, and many other conditions related to imbalance and disharmony in the body. The sound of the gong soothes internal mental chatter, supporting full-body relaxation.
During a sound journey, immerse in the healing vibrations of the symphonic gong, singing bowls, and chimes as the sound waves wash over you. The gong and accompanying instruments activate a dreamlike state to bring you into alignment with your Highest Self and your Divine Essence. Every experience with the gong is unique and the benefits are undeniable.
Harmonizing with the autumn equinox, use the sound frequencies of these sacred instruments to integrate the cycle of growth and expansion and release what no longer serves you. Experience spaciousness and ease. Enter the stillness. Listen to the voice of wisdom within. Activate the innate healing energies within your body. Allow yourself to be nourished and supported. The gong meets you where you are and guides you where you need to go.
A premium, padded mat will be reserved for the first 20 registrants.
Bring items to support your body and experience. Suggested support items are:
pillow(s) and/or blanket(s)
eye covering of your choice (scarf, eye pillow, hat, etc.)
wear comfortable clothing
as a courtesy to others, kindly refrain from wearing perfume, cologne, scented body lotion, or other fragrances
a journal and pen(cil) to jot down any insights you may experience
Leader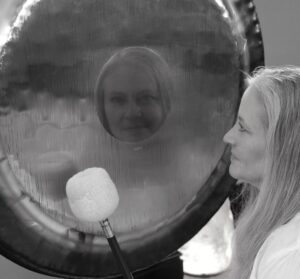 Onyxe Antara
Onyxe Antara is an internationally known facilitator, speaker, and author. Specializing in leading small group experiences, she has facilitated transformational workshops in Thailand, Hong Kong, Malaysia, Kenya, and the United States. She is the founder of HeartSpace, a body of work that focuses on using awareness and presence to clear emotional tension in the body. Her unique process invites you to challenge your perceptions and reclaim the stories you tell yourself and others. With a dedication to individual wholeness and integration, Onyxe believes that the end of suffering begins with personal healing and connecting to the divinity within.
Learn more about Onyxe Antara